Hi all
I've finally moved! - Took a year and a half and a few non-starters but it has happened at last. My new music room measures in at around 4.1 x 2.7. Here's a diagram showing my plan for room layout and acoustic treatment:
The room will be used mainly for mixing but also some recording, although there'll be no drum kits or loud instruments. I appreciate that proper sound proofing is complex, expensive, and very tough to achieve in a first floor bedroom of a newish house (17 years old)!!! But I would love to be able to just take the edge off the amount of sound that escapes and disturbs others.
Three of the walls are external; one is a stud partition (the one with the homemade chimney breast and door).
QUESTION 1:
I don't think there is any insulation in the partition wall but cannot be certain. Is there any way to tell for sure?
QUESTION 2:
Presuming for a moment that the cavity wall is empty, would pulling down one side of the wall, adding Rockwool slabs, re-dry-lining or plastering, etc. be worth the effort and expense? Any other options that are not too expensive? The layout of the house (very crudely and quickly drawn to no scale) is: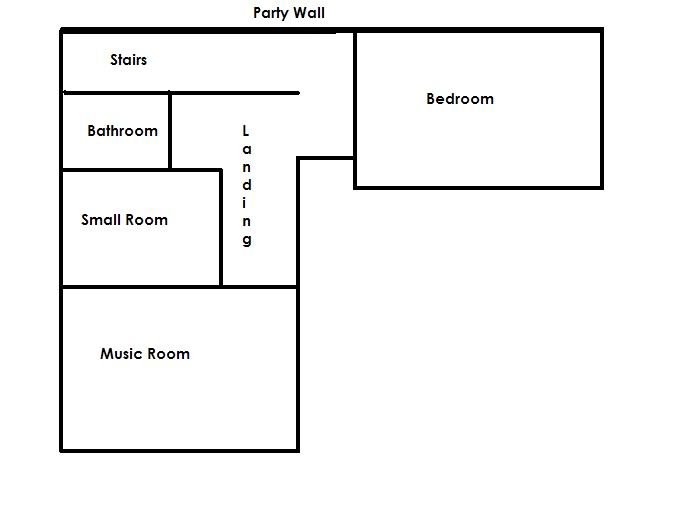 The purpose of doing something with the partition wall would be to help attenuate the noise reaching the neighbours (on the other side of the party wall), and the bedroom (where the gf will be trying to sleep!). The party wall is 4.5m away from the music room's partition wall.
Or will cheap/quickish fixes have no benefit whatsoever?
QUESTION 3:
Below the music room is the living room, and to make matters worse the flooring is chipboard. I am having a new carpet fitted and will go for the thickest best underlay possible. The fitter has also suggested putting down some fibreboard. Will this help at all? Any other suggestions to help achieve a little attenuation? Rockwool in the ceiling to floor void? Aside from trying to cut down the amount of music leaking, I also want to try and deal with the sound of me moving about in the room.
Hope this all make sense! It's been a long day and I'm knackered!
Any help would be fantastic
Cheers
Max