Hey Lads,
I'm cutting and pasting the majority of this from where I've got it posted in my local AV Forum. So I'll post it as a series of post in the order things were accomplished...
I have a wicked slap echo in the upper reaches of my 20'3" long x 14' wide x 11' tall room. To hear it one just has to reach above your head while standing and clap your hands together. My current arrangement of absorptive panels centered on a seated listener's ear height eliminates the problem down lower. In the pic of my room below, the Poly array will be centered between the tops of my fabric covered absorption panels and the lighting/HVAC soffit above it. Each of the two Poly arrays will consist of three vertically oriented and two horizontally oriented elements.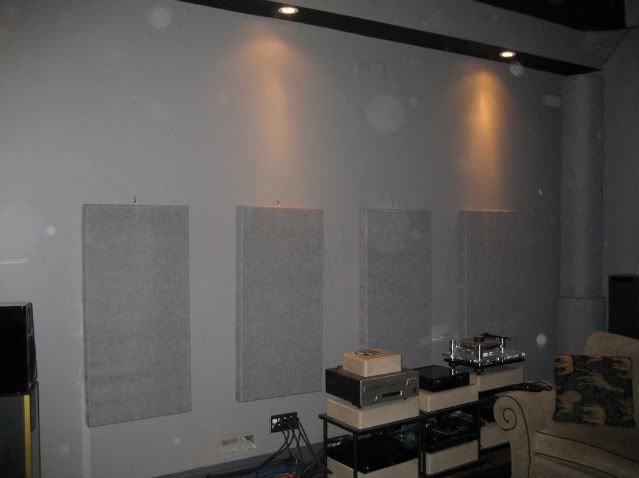 The frame in which the curved plywood Poly elements are mounted in is made from doubled up strips of 1/2" MDF. I had two 4'x8' sheets of MDF ripped into 8'x3" strips on the lumber store's panel saw as my small table saw won't handle that large of material. Then using my chop saw with an 80T carbide finishing blade, I cut all the individual pieces that made up my frame design. Here I am making lots of sawdust. Speaking of which when machining MDF wear a mask. There is stuff in the MDF binding agents which aren't good for you!
The two layers of MDF strips which make up the frame, overlap completely and interlock so that the parts of the frame which can't be screwed to an underlaying stud, will be screwed to a frame section which is. Next a photo of the two frames laid out as a mirror image pair along their long (horizontal) axis.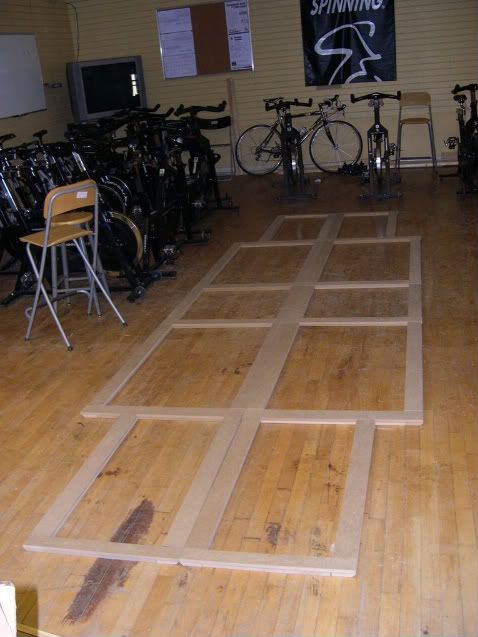 Once the interlocking frame was completed and the parts laid out to verify they all fit together precisely and as intended, it was back to the table saw to bevel some of the edges. The outside-most top and bottom horizontal strips are beveled at a 45 degree angle in the interest of aesthetics. In addition, the outer layer of MDF strips were bevelled at either a 30 or 45 degree angle wherever they engaged an edge of the the curved plywood polys. Finally all the pieces were sanded with 220g using a combination of my orbital palm sander and a hand block. Below is a pic of all the cut and stacked pieces.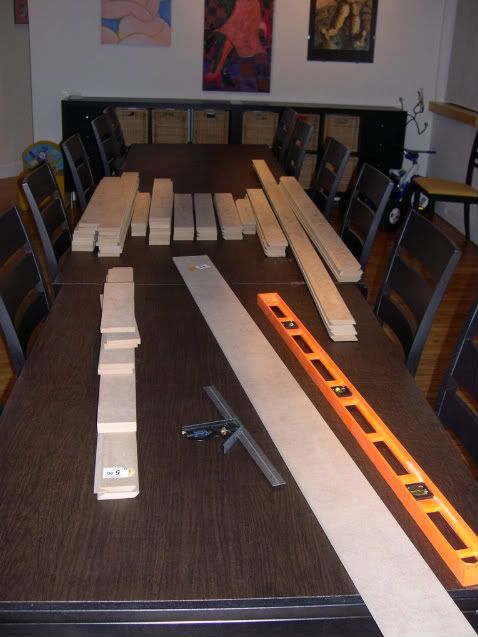 The next part wasn't so much fun. Over the next three days I PMAO (Painted My Ass Off)! -Two coats of high quality tinted latex primer and two coats of premium Benjamin Moore Acrylic Latex in the same dark Grey as my base boards and room trim with a light hand sanding with 220 grit between each coat. Fortunately the weather gods have been co-operating and I've been able to perform the finishing work outside. In the shot below I'm about half way having completed priming and just begun the first coat of the finishing colour.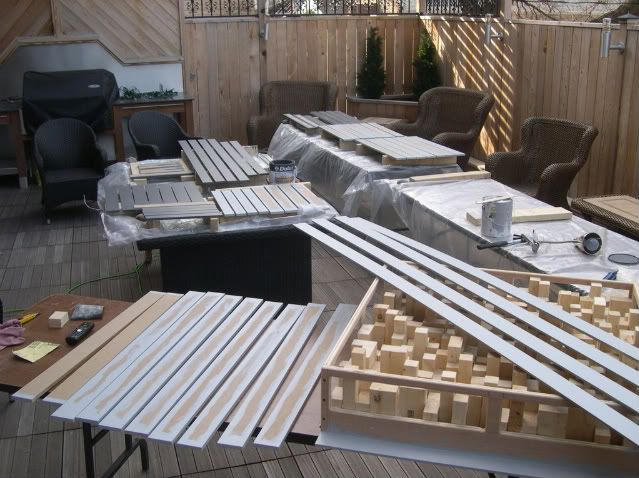 Friday I made a trip to Exotic Woods in Burlington and picked out some appropriate material for the curved Poly surfaces. I'll be using a special 1/8" clear birch unidirectional plywood. This ply has all the grain of the plies oriented in the same direction making it much more bendable. I intend to stain the light blond birch veneer with a transparent grey stain and then spray it with multiple coats of a semi-gloss poly-eurathane. I'm after a finish reminiscent of the stained maple "graphite" finish offered on some Sonus Faber loudspeakers. If I can pull it off, my Poly array should look quite architecturally stunning. However, the plywood waits until I can actually get the frames on their respective side walls. Then I'll test fit slabs of corrugated cardboard bent into a curve to mimic the ply. This'll permit me to accurately dimension the plywood to achieve the curve I'm after. Well, this has been my progress to-date. Updates to follow as the project evolves.